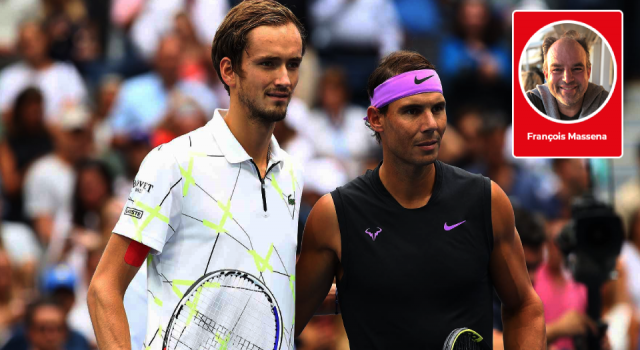 Hi!
That should be the headline!
" Dear All. Rafa vs Medvedev in final. Many of you have guessed that final. And you were right. Rafa suffered a lot vs Shapovalov like Medvedev did vs Aliassime. But they found the ressources, the instinct to survive. Amazing champions they are! If this is not a surprise for Rafa, this is for Medvedev! He rarely won a match in 5th set and that was a big surprise for him to come back a two sets down vs the Canadian. What's next? The Russian for a second Grand Slam in a row or Rafa to write history with a 21th GS , one more than the other two legends of the game, Djoko and Roger. That will be so exciting! My friend, Cem Ceminay, told me that the Russian will win in 4 sets. I will follow his bet this time! Indeed, Medvedev has all the shots to beat Rafa Nadal, he takes the ball much earlier, has a much more better serve, and he is 15 years younger.
So it does look like the Russian will lift the trophee like he did in last USO vs Djoko. But….who can be sure? Rafa is a unique player and like Roger or Djoko can find the solution to challenge the new generation! One thing is sure: the match is on Sunday morning on Eurosport, do not miss it!
Great evening to all of you.
Francois